Watermaths

by Simon Judd

Process fundamentals for the design and operation of water and wastewater treatment technologies.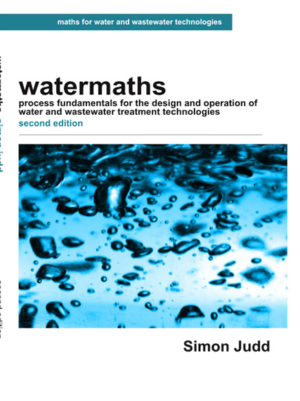 Price: £39.99 (includes p&p worldwide)
Watermaths is all about the use of maths in water and wastewater technology design and operation. The second edition is designed to give you the knowledge you need to master the basic maths required for designing and running water and wastewater treatment processes.
Suitable for students of undergraduate water engineering, civil engineering or environmental science courses, the book is also ideal for practitioners in the water industry who need a basic refresher. Watermaths is designed for self-paced study or distance learning. A brief explanation of each topic is followed by examples and exercises designed to reinforce learning.
Most of the fundamental unit operations are covered – from flows and pressures in pipes and across filters to transfer of oxygen from air into water, from the dosing of chemicals to the configuration of chemical or biochemical reactors, and from single unit processes to a complete water reuse scheme, covering the following core disciplines:
manipulation of equations, including logarithmic and exponential expressions
fluid physics for describing flow through pipes, channels and filters
chemical concentrations and reactions for defining chemical dosing
chemical and biochemical kinetics for assessing the impact of speed of reactions
mass balance for determining fate of materials through unit processes
mass transfer for determining transfer of materials across boundaries within processes
reactor theory for designing biochemical and chemical reaction vessels.
You will understand how and where to apply each equation in tackling the most important calculations for design and operation of key process technologies. Little or no prior knowledge of the subject is required, and you need only a basic grounding in science or engineering. The book is strictly limited to the essentials, covering basic numeracy as well as chemistry, process engineering and fluid physics.
The purpose of calculations is explained, getting you up to speed as quickly as possible. Each chapter includes example calculations, followed by exercises so you can practice your knowledge (solutions are given). Exercises range in difficulty from simple single calculational-step problems to more complex ones, and an over-arching design problem provides wider context.
Simon Judd runs a Watermaths discussion forum on LinkedIn.com, where you are welcome to discuss with him and others any aspect of the subject.
---
Book review:
'Watermaths - an essential for anyone studying the basics of water and
wastewater engineering, plus a really useful reference guide with
examples to work through for anyone wanting a refresher.'
Dr Emma Sharp
Severn Trent Water
---
Buying from us − what you need to know
If you buy from us:
your transaction will be processed by PayPal.com

you do not need a PayPal account to pay by PayPal − you can use a credit or debit card
PayPal uses session (temporary) cookies. More information on how cookies are used is available in PayPal's privacy policy
your payment will be made over a secure, encrypted connection
please ensure your postal address is correct when ordering
your book will be sent by first class post (UK) or by Royal Mail International standard delivery (rest of world). International standard delivery is not a tracked service. It aims to deliver within 5 working days but you will need to allow 25 working days before we can make a claim if your book is not delivered. If this is not acceptable to you, please contact us and we can quote you for the additional postage costs for a tracked and/or signed service.
any information you send us will be used for the purposes of processing your purchase − it will not be used for marketing purposes or sold to third parties
you may ask for your data to be removed by emailing enquiries@juddwater.com.
More info:
+ show full details
Sample Chapters
Product Details
Author:

Simon Judd

Edition:

Second edition

Published:

July 2013 by Judd and Judd Ltd, UK

ISBN:

978-0-9575578-0-2

Format:

A4 format, Soft cover, 107 pages