Industrial MBRs

by Simon Judd

Membrane bioreactors for industrial wastewater treatment.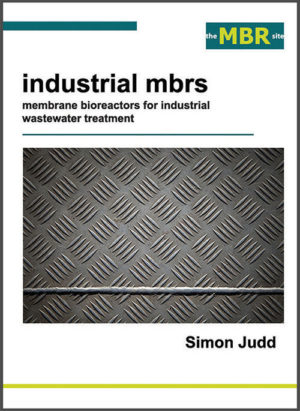 Price: £79.99 (includes p&p worldwide)
Written for wastewater treatment practitioners, Industrial MBRs offers a concise guide to the design, operation and application of membrane bioreactor technology to the treatment of industrial effluents. The book focuses on a number of key industrial sectors: food and beverage, petroleum, pharmaceuticals, landfill leachate, pulp and paper, textiles, and ships.
An overview of MBR technology is provided, in terms of principal design components, process operability, running costs and operational challenges. Most of the key commercial membrane technologies available on the market today are summarised, with reference to their configuration, dimensions and applications.
With over 50 case studies demonstrating a number of key industrial wastewater treatment applications, Industrial MBRs is a comprehensive summary of MBR technology as applied to the most challenging of wastewaters arising from industrial activities.
The book assumes only a basic knowledge of science and engineering, and is suitable for both undergraduates and postgraduates, as well as process operators, engineers and scientists. Included in the book:
6-page introduction to industrial effluent and MBR technology
25-page summary of MBR basics, including technical design, O&M and costing
42-page review of industrial effluent characteristics and treatment from seven industrial sectors: food & beverage, petroleum, pharmaceuticals, pulp & paper, textiles, landfill leachate and ships
35-page specifications summary of 48 commercially-available MBR membrane products
51 case studies, including design and O&M data.
---
Book review:
'The Industrial MBRs book offers technical details to anyone interested in the application of MBR technologies to an industrial wastewater source. As a beginner into this field I found the book extremely useful as it answered some of the queries I had related to MBR applications. The book features an abundance of operational technical data, which is rather hard to obtain.
'I particularly enjoyed the format of the book which makes the book easy to navigate whilst covering a complex field.'

Dan Golea
---
Buying from us − what you need to know
If you buy from us:
your transaction will be processed by PayPal.com
you do not need a PayPal account to pay by PayPal − you can use a credit or debit card
PayPal uses session (temporary) cookies. More information on how cookies are used is available in PayPal's privacy policy
your payment will be made over a secure, encrypted connection
please ensure your postal address is correct when ordering
your book will be sent by first class post (UK) or by Royal Mail International standard delivery (rest of world). International standard delivery is not a tracked service. It aims to deliver within 5 working days but you will need to allow 25 working days before we can make a claim if your book is not delivered. If this is not acceptable to you, please contact us and we can quote you for the additional postage costs for a tracked and/or signed service.
any information you send us will be used for the purposes of processing your purchase − it will not be used for marketing purposes or sold to third parties
you may ask for your data to be removed by emailing enquiries@juddwater.com.
More info:
+ show full details
Sample Chapters
Product Details
Author:

Simon Judd

Edition:

First Edition

Published:

September 2014 by Judd and Judd Ltd, UK

ISBN:

978-1-7804070-3-6

Format:

A4 format, Soft cover, 160 pages